(Search name, title, label, country, media, description, id. Use '-' to restrict query.)
Paypal is accepted. Please email
wanderer_records (at) yahoo.com
to confirm availability.
Check your spam folder if you don't see reply message in your mailbox.
Graded as cover/record. All images are actual images of offered items.
Registered shipping with tracking number is offered (including USA and CHINA).
ARS REDIVIVA ENSEMBLE PRAGUE -Couperin - Rameau. L'apotheose de corelli. L'astree. Clavecin.
ARS REDIVIVA ENSEMBLE PRAGUE - Couperin - Rameau. L'apotheose de corelli. L'astree. Clavecin. (Item w09481)

LP CZECHOSLOVAKIA SUPRAPHON
EX/NM 10536, absolutely mint 1963 record, probably never played. Cover is wavy a little.
$14.99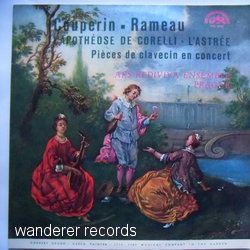 More similar records:

ARS REDIVIVA ENSEMBLE, PRAGUE -Bach family Chamber music, stereo
(item w17372)
LP
CZECHOSLOVAKIA SUPRAPHON/ CLASSICAL VG+/VG+
$4.99

ARS REDIVIVA ENSEMBLE PRAGUE -Vivaldi,Antonio 5 concertos for flute and chamber ensemble
(item w09485)
LP
CZECHOSLOVAKIA SUPRAPHON/ CLASSICAL EX/NM
$14.99