(Search name, title, label, country, media, description, id. Use '-' to restrict query.)
All orders are shipped a) worldwide (including USA and CHINA), b) registered with tracking. Please email
wanderer_records (at) yahoo.com
to order. Check your "spam" folder if you don't see reply message or Paypal invoice in your mailbox. Priced in USD. Graded as cover/record. All images are actual images of offered items.
Buy more — pay less!
Buy 10 items or more and get 20% offlist price!
Buy 25 items or more and get 30% off

list price!
APINA,Alena - Vse tak ne prosto
APINA,Alena - Vse tak ne prosto (Item w09701)

LP USSR, RUSSIA APRELEVKA SOUND
NM/NM 01979, top copy, unplayed record.
$14.99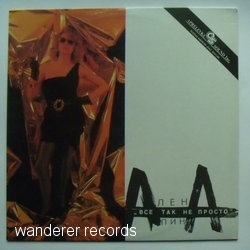 More similar records:

APINA,Alena -Combination
(item w10735)
EP
USSR, RUSSIA MELODIYA/ POP VG+/VG
$11.99

APINA,Alena -Street of Love
(item w09702)
LP
USSR, RUSSIA RUSSIAN DISC/ POP VG+/EX
$8.99

RUSSIAN GIRLS -Moscow Visa
(item w10777)
LP
USSR, RUSSIA GALA/ POP EX/EX
$15.99

APINA,Alena -Street of Love
(item w11381)
LP
USSR, RUSSIA RUSSIAN DISC/ POP NM/NM
$19.99

RUSSIAN GIRLS -Moscow Visa
(item w13413)
LP
USSR, RUSSIA GALA/ POP VG/VG
$7.99

APINA,Alena -Vse tak ne prosto
(item w13971)
LP
USSR, RUSSIA APRELEVKA SOUND/ POP NM/NM
$29.99

APINA,Alena -Street of Love
(item w13972)
LP
USSR, RUSSIA RUSSIAN DISC/ POP NM/NM
$29.99

APINA,Alena -Vse tak ne prosto
(item w08002)
LP
USSR, RUSSIA APRELEVKA SOUND/ POP VG+/EX
$8.99

RUSSIAN GIRLS -Moscow Visa
(item w11251)
LP
USSR, RUSSIA GALA/ POP EX/VG
$4.99

RUSSIAN GIRLS, COMBINATION, KOMBITATSIA, Alena APINA -3 LPs: New version, Dva kusocheka kolbaski, Vse tak ne prosto
(item w15779)
3LP
USSR, RUSSIA MELODIYA/ POP EX/VG+
$19.99

Rolling Stones, Clovers, Drifters, Coasters, Pavarotti, Alena Apina & Combination, Pugacheva -KRUGOZOR magazine +6 flexies 1990 Rolling Stones
(item w14492)
flexi
USSR, RUSSIA MELODIYA/ ROCK NM/NM
$39.99