(Search name, title, label, country, media, description, id. Use '-' to restrict query.)
Graded as cover/record. Priced in USD. We ship worldwide (including USA and CHINA) registered with tracking. Please email
wanderer_records (at) yahoo.com
to order. Check your "spam" folder if you don't see reply message or Paypal invoice in your mailbox.
Please be patient to delivery delay because of COVID-19.
Buy more — pay less!
Buy 10 items or more and get 20% off list price!
Buy 25 items or more and get 30% off

list price!
WONDER,Stevie - Pesni ljubvi. 20 luchshikh pesen.
WONDER,Stevie - Pesni ljubvi. 20 luchshikh pesen. (Item w15334)

LP USSR, RUSSIA ANTROP
NM/NM Mint unplayed, very rare russian release.
$49.99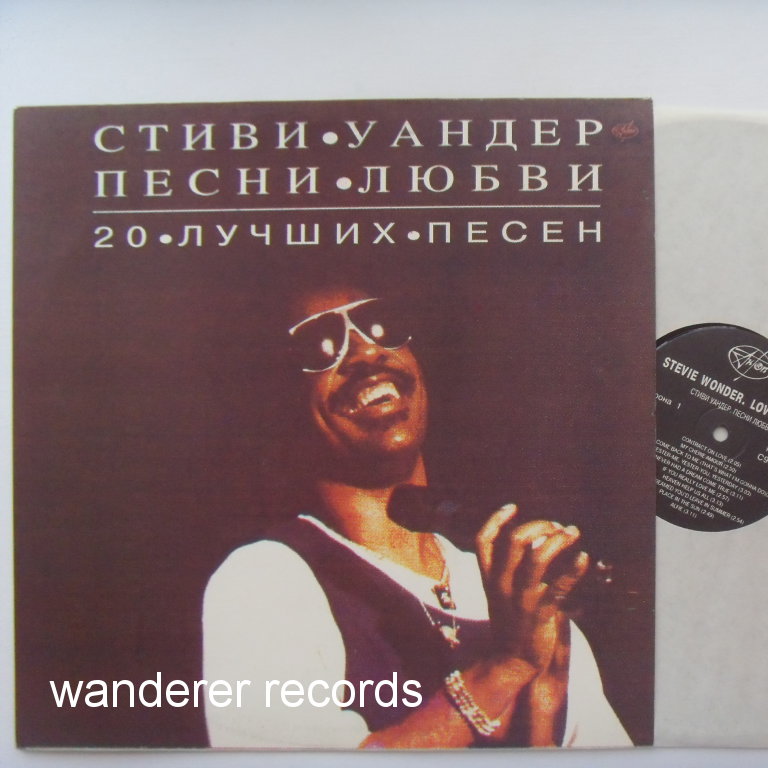 More similar records:

WONDER, Stevie -Sunshine Of My Life
(item w11188)
LP
USSR, RUSSIA MELODIYA/ POP NM/EX
$7.99

WONDER,Stevie -Sunshine Of My Life
(item w11203)
LP
USSR, RUSSIA MELODIYA/ POP EX/VG+
$4.99

WONDER,Stevie -Sunshine Of My Life
(item w09662)
LP
USSR, RUSSIA MELODIYA/ POP NM/NM
$9.99

Stevie WONDER -Sunshine Of My Life - Latvian (Riga) pressing
(item w18445)
LP
USSR, RUSSIA MELODIYA/ POP VG+/NM
$9.99

Stevie WONDER -Sunshine Of My Life - rare Georgian pressing
(item w16313)
LP
USSR, RUSSIA MELODIYA/ POP VG/EX
$14.99